Being a Teenager is Tough!
The last thing you need is to worry about what your friends will think if you have a seizure. You have lots of questions about epilepsy, but you can find the answers to you questions about driving, dating, medication, and side effects.
It's also important to let some people know about your seizures, but who do you tell?
A teacher can help you adjust your schoolwork. It's also good for a teacher to know what to do if there is a seizure during class.
The school nurse should know what type of seizure you have, how often you have them, and if you take any medication. If you are not feeling well before or after a seizure, the nurse can explain why to your teacher.
A coach or activity moderator will understand when your seizures prevent you from participating. They also should know what to do if there is a seizure during their time with you.
An employer also needs to know what to do if there is a seizure during your shift. Thanks to the Americans with Disabilities Act, they cannot fire you because of your seizure disorder.
Your best friends care about you and want to help. They can help with school and other issues. A true friend is interested in who you are regardless of your seizures.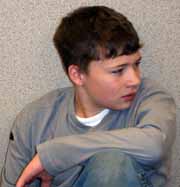 Austin
Age: 15
Home: Illinois
Q: When did you begin having seizures?
A:I began having petit mal seizures at age 6 and at age 12 I started having tonic clonic seizures. I'm 15 now.
Q: What do you find most challenging as a teenager with epilepsy?
A: The biggest challenge for me as a teenager has been the effects of the medication, and the fact that I'm not going to be able to drive as soon as the average teen.
Q: What advice do you have for other teenagers with epilepsy?
A: I would advise every teen with epilepsy to not give up hope of having a normal life, driving, getting a job, and going to college. I have found the right medicine, and my seizures are under control.